Young Scholars in Writing: Undergraduate Research in Writing and Rhetoric publishes research and theoretical articles from undergraduates on writing, writers, rhetoric, discourse, language, and related topics.
"Young scholars" refers not to age but to experience with research in writing, rhetoric, and related topics. We invite all undergraduates to submit their research on these subjects!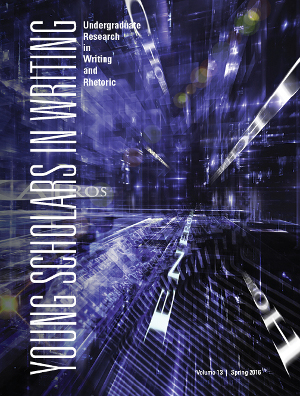 Submissions for Vol. 16 are closed.
We'll begin accepting submissions for Vol. 17 in January, 2019.
Visit our Online Submissions page or see the About page for information on how to prepare submissions. We'll be accepting submissions to our Articles section, our Spotlight on First-Year Writing section (for research by students in first-year college writing courses), and our Comments & Response section (for responses to articles published in previous issues of YSW). 
Visit our Facebook page for updates and community.
Congratulations to the many young scholars who have published in the pages of our journal!
---
Young Scholars is generously hosted and supported by Montana State University and edited by Dr. Doug Downs. Please address all inquiries to Dr. Downs at YoungScholars.Editor@gmail.com.
Announcements
No announcements have been published.