About the Montana State University Exponent Newspaper Collection
The Montana State University Exponent Newspaper Collection
What is it?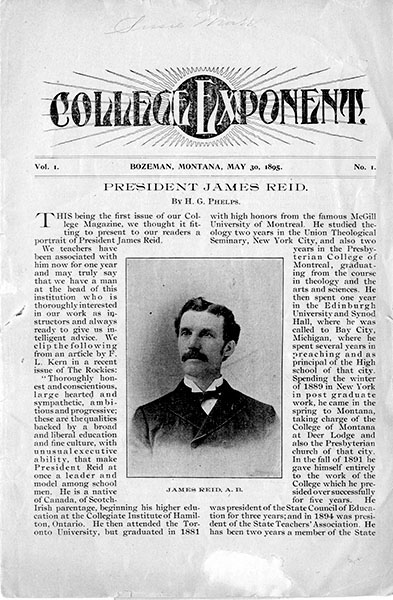 The Montana State University (MSU) Exponent Newspaper Collection has full-text, PDF format retrieval of MSU Exponent editions from 1895 through the present.
The database is a joint development effort between the MSU Exponent and Montana State University Library Digital Initiatives.
The MSU Exponent is Montana State University's student-run newspaper, bringing together more than 70 students of diverse background and approaches in service of the public interest. The newspaper strives to contribute to the university's community by providing thorough, original reporting and creating space for public discourse about topics of importance to students. As of January 2015, the paper is funded by a $4.86 annual student fee and advertising revenue. It is published on Thursdays during the academic year and is available online at msuexponent.com.
Since its founding in 1895, the Exponent has been known under the following titles:
1895-1901: College exponent
1901-1910: The exponent
1910-1931: Weekly exponent
1931-1960: Montana exponent
1960-1965: Exponent of Montana State College
1965-1976: Exponent of Montana State University
1976-1981: MSU exponent
1981-1987: The Exponent
1987-2012: ASMSU exponent
2012-Present: MSU Exponent
This online digital collection will be expanded with each subsequent semester of Exponent. The long-term planning goal of the Exponent staff is to digitize and include all historical editions of the paper from 1895 forward that are currently stored in the Montana State University Library Archives. This collection is an ongoing collaborative project between the MSU Exponent and the MSU Library to provide online archival access to the Exponent.
Preferred Citation
[Identification of item], [Item permalink or DOI], Montana State University Exponent Newspaper Collection, Montana State University (MSU) Library, Bozeman, MT
Copyright Notice
Whenever possible, the Montana State University Library provides information about copyright in our digital collections records. We often do not own the rights in materials, and as such do not grant permissions for their use. Permissions and fees may be required from the individual copyright holder for uses beyond what is allowed based on U.S. Copyright Law (http://www.copyright.gov/fair-use/).
Please attempt to determine if an item is protected by copyright and follow any copyright or use restrictions when applicable. Written permission from the copyright holder is required for reproduction of protected items beyond what is allowed by fair use or other exemptions. These materials may be used for personal use, research, teaching (including distribution to classes), or any "fair use" as defined by U.S. copyright laws.
For more information please contact Archives and Special Collections at the Montana State University Library or Leila Sterman, Scholarly Communication Librarian.