Young Scholars in Writing: Undergraduate Research in Writing and Rhetoric publishes research and theoretical articles from undergraduates on writing, writers, rhetoric, discourse, language, and related topics.
"Young scholars" refers not to age but to experience with research in writing, rhetoric, and related topics. We invite all undergraduates to submit their research on these subjects!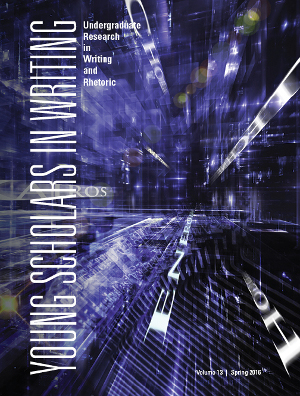 Young Scholars in Writing is now accepting submissions for volume 14! Submissions will be accepted through June 30, 2016. To submit a paper for review, visit our About page and click on the Online Submissions link there. 
All volumes of the journal are now available on this site! Click "Archives" in the main menu above or Browse issues with the links at the top left of the page to see Volumes 1-13.
Visit our Facebook page for updates and community.
Congratulations to the many young scholars who have published in the pages of our journal!
---
Young Scholars is generously hosted and supported by Montana State University and edited by Dr. Doug Downs. Please address all inquiries to Dr. Downs at YoungScholars.Editor@gmail.com.
Announcements
Submissions for Vol 14 (2017) are closed

With the passing of the June 30 submission deadline for our next volume (14), the journal will not be accepting new submissions until the beginning of 2017.
Posted: 2016-07-10